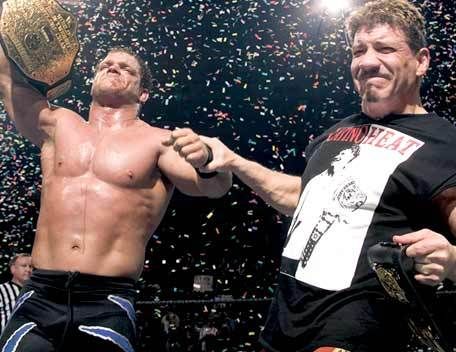 I was in High School when I watched Owen Hart fall to his death as The Blue Blazer. I assume this was god's(sic) way of telling him to change his angle. Growing up I was of course a big wrestling fan, and this not only stunned me, but saddened me as well. A year and a half ago when Eddie Guerrero died, this didn't really bother me that much.

Chris Benoit, as Hart-less(get it) as it is to say, I never liked so I'm not beat up about it. After 3 calls from friends and relatives distraught over the news, I figured I'd look into it. At first I was assuming he either went the route of Brad Delp or Marshall Applewhite, but last night I watched the USA special last night for Benoit, now I'm sure Bonnie Hammer and her staff are PRETTY steamed about cancelling RAW and airing a 3 Hour tribute after THIS little nugget came about.

"Benoit strangled his wife, smothered his son before hanging himself: cop

A law enforcement official close to the investigation says pro wrestler Chris Benoit strangled his wife and smothered his son before hanging himself in his weight room.
The family was found dead Monday, and authorities were investigating the deaths as a murder-suicide. Investigators believe the 40-year-old Benoit killed his wife, Nancy, 47, and son, Daniel, 7, over the weekend, then himself on Monday.

"The details, when they come out, are going to prove a little bizarre," Fayette County District Attorney Scott Ballard told the Atlanta Journal-Constitution newspaper.

Story Courtesy of the AP"



Always a professional, going like a champ in his weight room. The part I find a little unnerving, is THIS;



"Benoit's demise comes just days after the shocking death of former WWE wrestler "Sensational" Sherri Martel on June 15."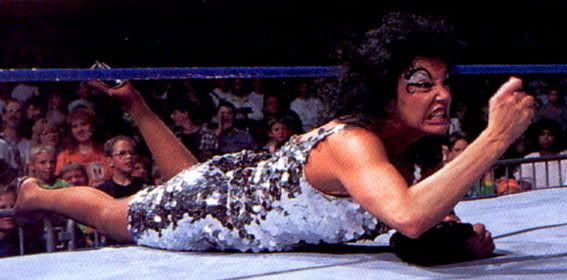 No grieving for Sherri?



Now to what I deem the most intriguing part of the story so far.


"ABC News reported that authorities had found "the instruments of death" at Benoit's home – a mansion surrounded by stone walls with a gravel road leading to double iron gates."

Courtesy of Alfonso Castillo at NewsDay

Thanks to Mike for the idea for the Casket Match. I think it'll sell.