...if only for 1 picture.

1-18-08 has been updated finally to the excitement of CloverFiends(Trademark in the works) everywhere.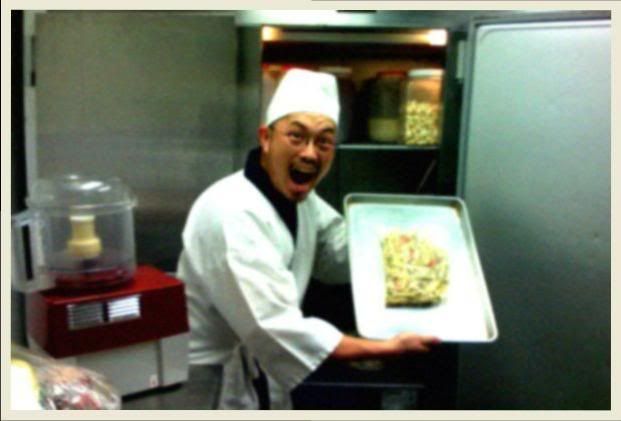 Now a game reminiscent of the days we thought Ethan Haas had ANYTHING to do with it. It's translating time!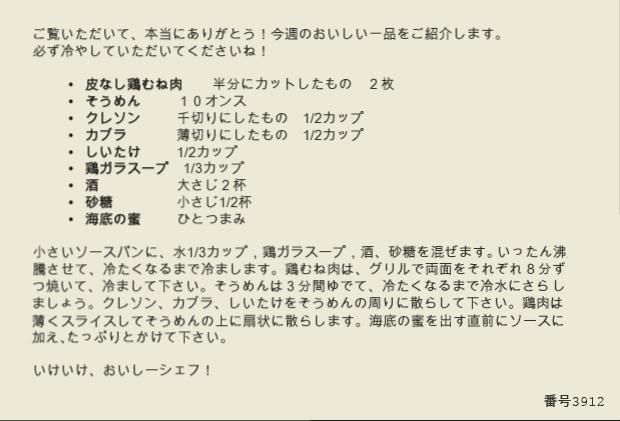 The back of the picture doesn't tell us much though. It's simply, if anything were simple, a recipe;



Everybody, thank you for viewing! I'll introduce this week's delicious recipe. Please make sure to keep this one cold!

*Skinless chicken breast - 2, cut in halves
*Soumen (a kind of japanese noodle) - 10 oz.
*Watercress - 1/2 cup cut into small strips
*Turnip - 1/2 cup, thinly sliced
*Shiitake (japanese mushrooms) - 1/2 cup
*Chicken stock - 1/3 cup
*Sake (japanese rice wine) - 2 tbsp.
*Sugar - 1/2 tsp.
*Ocean-bottom crab - one (see note below)

In a small saucepan, stir together 1/3 cup water, chicken stock, sake, and sugar. Chill it until it becomes cold. Grill the chicken breast on both sides for about 8 minutes, and then chill. Boil the noodles for about 3 minutes, and then run under cold water until chilled. Mix the watercress, turnips, and mushrooms into the soumen. Slice the chicken thinly and arrange on top of the soumen mix. Just before you serve, put the crab in the sauce and pour over the noodles generously.

Go go Oishii ("delicious") Chef!


The numbers add up to 19 1/3...which means nothing.

The Crab is Ocean Bottom Crab(Slusho?

Why does it have to be so cold?

Why am I typing outloud to myself?