The bastard is just too perfect. Now we find out why.


Hollywood Reporter has stated;


NBC will air a special 'Incredible Hulk'-themed episode of "American Gladiators" with guest star Lou Ferrigno sharing the arena with host Hulk Hogan.

...The "Gladiators" episode will include a hulked-out Gladiator Arena and an exclusive 60-second preview from the upcoming movie "The Incredible Hulk."

The "Hulk"-themed "Gladiators" episode airs June 9; the film opens four days later. At the movie's premiere, gladiator Titan will walk the red carpet.

About 1,000 pairs of Hulk Hands will be given to audience members to wear throughout the episode, and some also will wear Hulk masks. Gladiators will likewise use Hulk Hands while competing in the Gauntlet.

The arena's water will look green. Titan will be green..."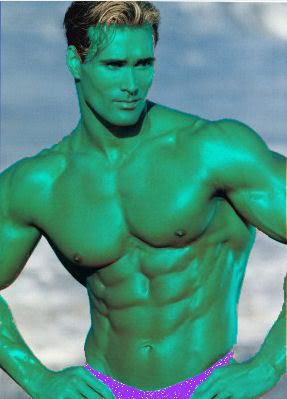 Or as we at AXB Enterprises know, in his REAL state!!!!!



"...There will be green lighting, green graphics, green balls for Powerball. Pretty much everything will be green."



Also, AXB Enterprises was going though our DVD's at the office and found footage of Titan moonlighting as Superman....SUPERMAN!!!!